JBossWS 6.1.0.Final is released !
By Jim Ma | September 7, 2022
JBossWS 6.1.0.Final has been released and is available for download. In this minor release, we cleaned up dependencies and fixed couple of issues we found.
For more detailed info and full list of issues resolved, please check release notes.
This minor release has been included in WFLY upstream and will be released in WFLY 27 final. If you are using JBossWS 6.0.0.Final, please upgrade to this new release. Please contact us if you get any issue in this new release. Thanks!
Useful Links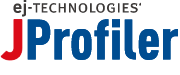 We use JProfiler for profiling